Built-In PLC: The Evolution in VFD Performance and Intelligence
Date: Friday, August 28, 2020
Time: 10:00 AM – 11:00 AM CT
---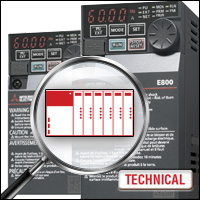 Distributed control with variable frequency drive technology is here today! The FR-E800 Series VFDs combine motor control and process control into one automation unit with added input/output signal and logic, and the processing power of a built-in PLC.

The webinar will cover:
The ability to have distributed control without added automation equipment
Ladder or structured programming with functions blocks for ease of use
Inverter-to-inverter communications made possible with built-in PLC control
---
Meet the Presenter:
Paul Bobel
Product Application Specialist, Team Leader - Mitsubishi Electric Automation, Inc.
Email Paul

Mitsubishi Electric is a recognized leader of industrial automation products and services. Our solutions provide advanced technology for automated machinery, allowing it to run more precisely and integrate more seamlessly, enabling machines to produce at higher volumes with greater accuracy. We invest in the success of our customers through research and development of superior products to empower their innovative solutions. Our technology makes your machines better.
TO REGISTER, PLEASE COMPLETE THE FORM BELOW