VFD Harmonics: What You Should Know, and How To Mitigate Them
Date: Friday July 10, 2020
Time: 10:00 AM – 11:00 AM CT
---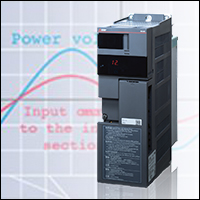 Gain a better understanding of harmonics as they relate to variable frequency drives (VFDs) or inverters. Who do they concern? What are the issues? What are the causes? What can be done about it?
---
Presented by Ruben Ortiz, Product Manager/Business Development (Large Capacity VFD), Mitsubishi Electric Automation, Inc.
Email Ruben
---
Mitsubishi Electric is a recognized leader of industrial automation products and services. Our solutions provide advanced technology for automated machinery, allowing it to run more precisely and integrate more seamlessly, enabling machines to produce at higher volumes with greater accuracy. We invest in the success of our customers through research and development of superior products to empower their innovative solutions. Our technology makes your machines better.
TO REGISTER, PLEASE COMPLETE THE FORM BELOW