Enhance CPU Hardware Performance With GX Works3
Date: Friday, September 11, 2020
Time: 10:00 AM – 11:00 AM CT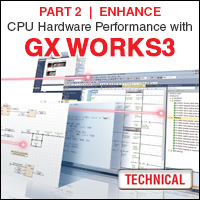 In Part 2 of Tim Hider's webinar series on GX Works3, learn about even more shortcuts, features, and functions—there's probably something you're unaware of that could help you get the most out of CPU hardware! Hider will specifically touch on the following:
The database within the Mitsubishi Electric iQ-R Series PLC
Simulations
Function block diagram tips and tricks
If you haven't seen part 1 yet, watch it at any time On-Demand
Meet the Presenter:
Tim Hider
Sr. Product Application Specialist - Mitsubishi Electric Automation, Inc.
Email Tim

Mitsubishi Electric is a recognized leader of industrial automation products and services. Our solutions provide advanced technology for automated machinery, allowing it to run more precisely and integrate more seamlessly, enabling machines to produce at higher volumes with greater accuracy. We invest in the success of our customers through research and development of superior products to empower their innovative solutions. Our technology makes your machines better.
TO REGISTER, PLEASE COMPLETE THE FORM BELOW