ASSISTA: The Truly Industrial, Truly Collaborative Robot
Date: Friday, March 26, 2021
Time: 10:00 AM – 11:00 AM CT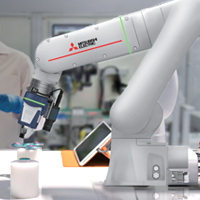 Mitsubishi Electric's collaborative robot, ASSISTA, is designed to share a workspace with humans for a wide variety of applications. Easy control, programming, and connectivity provides operators with the skills they need to interact with this robot quickly and efficiently.
Patrick Varley, Business Development Manager at Mitsubishi Electric will give a short presentation about the new robot, and then will be on the line to field questions from attendees.
Meet the Presenter:
Patrick Varley
Business Development Manager (Robotics) - Mitsubishi Electric Automation, Inc.
Email Patrick


Mitsubishi Electric Automation empowers innovators to create superior solutions by providing products that have unmatched levels of precision and ease of integration. We care about the success of your business; combine that with our know-how, products, and services, and you have the foundation for a trusted partnership that values quality, performance, and compatibility.
TO REGISTER, PLEASE COMPLETE THE FORM BELOW